Early years:
Born in 1921, he was the son of impressionist painter Maurice Braun and writer/critic Hazel Boyer Braun. Ernest exhibited artistic leanings from an early age. In an interview, his father noted, " Ernest is four. He expects to be an artist. He has a very definite sense of color harmony."
At twelve, the gift of a Brownie camera from an uncle started a lifetime passion for photography. Growing up in San Diego, he attended the Lomaland School. Then, after two years pursuing a degree in journalism at San Diego State, he took a job as staff photographer for Consolidated Aircraft, documenting aircraft construction and anti-submarine technology. In 1943 Braun attended the Art Center School of Design in Los Angeles before being drafted into the Army in 1944.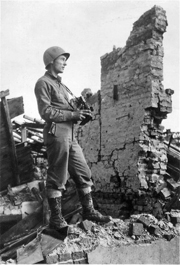 Originally in the infantry, at the last minute he was selected for the 165th Signal Photo Company due to heavy casualties. In Europe, he documented the action on the front lines, receiving high praise for the quality of his images, and was decorated for his service, including the award of a Bronze Star. The horrors that he witnessed had a profound impact on him, and he later commented that the war had made him a pacifist.
After returning to New York City from the war in 1946, he cared for his ailing mother who was in residence at Carnegie Hall. While living in the city he established a photo studio and worked freelance for clients. There he met his wife, Mary Louise Long; they were married in 1947.
The couple soon left New York for a cross-country trip, which brought them to their new home in San Francisco. Braun opened a photo business with friend, Clyde Childress, calling it "Designs in Light." In 1948, the couple moved across the bay to a home in the hills of Marin County. The small summer cabin was expanded several times to accommodate the five children who arrived at regular intervals. While remodeling the house, he added a darkroom and office and began his own photography business, working out of the home studio where he lived for the next 60 years.

Architectural and commercial work: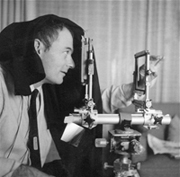 The 1950's found Braun actively engaged in architectural photography. As his reputation in the field grew, he was hired by some of the best architects and architectural firms: Lawrence Halpren, Joseph Esherick, Anshen & Allen, Campbell & Wong, Mario Ciampi, Roger Lee and George Rockrise. From 1954 through 1968 he was the lead photographer for developer Joseph Eichler, who created subdivisions of innovative and affordable modern homes. Braun felt strongly about including people in his photographs and was given the freedom to follow his instinct. He employed a Sinar 4x5 view camera and Hasseblad for these shoots. Although he preferred natural light, when necessary diffused or reflected flash was used. In the years before electronic flash, single use flash bulbs were deployed, requiring laborious changing of the spent bulbs between each exposure. Classic images from this period illustrate the book Eichler / Modernism Rebuilds the American Dream (2002).
In 1968, Braun received the American Institute of Architects' Architectural Photography Medal for outstanding achievement. By this time he had been published in Architectural Record, Architectural Forum, Progressive Architecture, Look, Life, Fortune and many other publications.
The scope of his commercial photography was expanding to include many national and international clients, such as Del Monte Co., Alcoa Corp., Kaiser Aluminum, Royal Viking Line, Castle and Cook, Quantas Airlines, Hewlett Packard Co., IBM Corp., Chevron Chemical Co., Georgia Pacific, Crocker Bank, and Paul Masson Vineyards.
Editorial assignments showcasing homes and gardens published in magazines and home improvement books were an important part of the business. Braun often called these his "Bread and Butter" clients. However, this work was anything but simple. Often these location shoots were on a tight schedule, subject to existing weather and light conditions. To meet the clients' needs there had to be close coordination with writers and editors. The team on-location might include client representatives, one or more assistants, models and stylists. The photographer had to make rapid decisions about shooting angles, props, lighting and equipment. Some of the publications in which this work appeared are Sunset Magazine, Better Homes and Gardens, Ladies Home Journal, House and Garden, House Beautiful, McCalls and Ortho Books.
Braun began employing apprentices to assist on these location shoots. Over the years, he gave many aspiring photographers the opportunity to receive first-hand experience and training that helped in the development of their own careers in photography.
A founding member of the Northern California Chapter of the American Society of Media Photographers, Braun was honored by ASMP in 1998 at a special event as a "Local Living Legend." The State of California Assembly approved a resolution congratulating him for his achievements.

Working in the world of media and the arts provided the opportunity to interact with a fascinating group of artists and creative people. Mutual interests led to friendships and collaboration. Photographing these colleagues and their work produced some insightful and now historically unique results. Subjects of these portfolios include sculptor Benny Bufano, designer Charles Eames, and dancer Anna Halprin.

Page top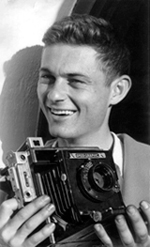 Braun was one of five photographers invited to contribute to a special collaborative photo portrait titled Our San Francisco, published in 1964. The book is entirely black and white; each photographer documented a unique vision of the city and was paired with a local iconic writer whose words set the mood for each chapter. Braun's contribution, titled "Shapes Of The City" has an introduction by famed writer and columnist Herb Caen. Caen says of Braun, "The photographers have come closest to capturing the feel of San Francisco - and no one has come closer than Ernie Braun." In a later book Portrait of The San Francisco/Oakland Bay Area, published in 1981 Braun was able to expand his vision of the region he called home, this time in color.
Braun was always very involved in his large family. Having a home office allowed him to assist with the kids when they were young. For the children, spending time in the darkroom with their father, while images magically appeared in the tray of developer, provided a great way to have quality time with their dad.
Wet Belly Photography:
Family hikes, excursions to the beach and backpacking trips to the Sierra Nevada mountains allowed Braun to experience the beauty of the natural world in the vicinity of his home. Inevitably, his eye would be drawn to the exciting photographic possibilities in nature. Here a new direction in his work began. Over the next five decades, more and more of his focus would be directed toward nature photography that created a new aesthetic. Using smaller format 35mm cameras, he began to explore subjects close up, often focusing on a single flower, blade of grass or dewdrop. It was not unusual for him to search out images in the damp early morning hours, crawling through the dewy grass. Later his students dubbed this activity " Wet Belly Photography."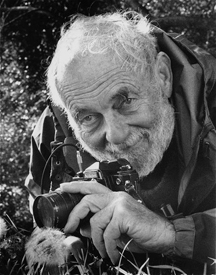 His work was featured in Grand Canyon Of The Living Colorado, published by the Sierra Club. In 1965, he made a three-week rafting trip through the Grand Canyon in wooden "Dory" boats. Also running the river was then Sierra Club executive director, David Brower. On seeing the photos Braun had produced during their voyage, Brower was inspired to create this book and a travelling exhibit to further the crusade for a greater Grand Canyon National Park. Brower called Braun "a photographer of extraordinary ability." The exhibit of photos from this series were displayed at the Time-Life building in New York and the De Young Museum in San Francisco.
In 1968 Braun embarked on a self-directed assignment to intimately explore three wilderness settings: a meadow, a stream and a timberline lake. This project extended for many years in all seasons and under every possible weather condition. A selection of these photos were included in the book Living Water, published in 1971. This book, with text by David Cavagnaro, broke new ground with a photographic approach that was often more impressionistic than literal. The book received Life Magazine's first prize for nature photography.
His next book Tideline (1975) was very much a labor of love. For this project Braun created a text that detailed a single change of the tide, explaining the complex web of life at the edge of the sea and delving into man's relationship with and impact on the natural world. During the years spent creating the book, he rented a cabin near Point Lobos State Park that provided close access to his subject and a respite from the commotion in the busy family home.
Braun also illustrated several works specific to natural history including the book Exploring Pacific Coast Tidepools and a classroom film strip series The Web of Living Things. His nature photography was published in many magazines including: Audubon, Oceans, Outdoor Photographer and Backpacker.

Master teacher:
Braun began teaching photography in the late 1960's. Sharing his passion for both the natural world and photography, he quickly became in demand as a workshop instructor. His seminars were hosted by the University of California Berkeley and San Diego, California Academy of Sciences, Ansel Adams Workshops, Point Reyes Field Seminars, Mendocino Art Center and the Oakland Museum. For a time he sponsored a private series of "Discovery Workshops."
The locations for these workshops spanned the globe including South America, Galapagos Islands, Kenya, New Zealand, China, Tyrolean Alps, Alaska and the American Southwest.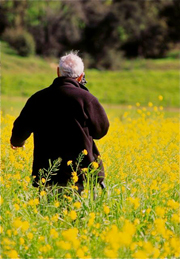 A devoted band of students organized an exhibit "Celebrating Nature" to honor Braun's influence on their development as photographers. It was exhibited at the Marin County Civic Center in 1999. One student commented, "Another thing that Ernie shared…and taught, is his lust for life. Those who view Ernie's photography may not know that the beauty he captures is what the man is. I hope all who see this exhibit will understand better, the man and his interpretation of life".
His last project was a book devoted to synthesizing his lifetime experience and wisdom related to photography. Titled Nature Photography: Your Creative Options, the book did not make it to publication before his passing in March 2010. Also unpublished is a planned retrospective book, Impressions in Natural Light.
Braun had a powerful drive to create. Despite having joked that he was always semi-retired, he continued to exhibit and work on book projects into his late 80's. In 2008, a very successful exhibit of forty large color prints was presented at the Bay Model Gallery in Sausalito, California.
On his passing, California Senator Barbara Boxer placed a tribute to Ernest Braun into the Congressional Record. She stated, "Ernest Braun was a passionate photographer and avid environmentalist who loved sharing the gift of photography and nature with his family and community."
His son Jonathan Braun oversees Mr. Braun's legacy library of photography.