Purchase Ernest Braun Fine Art Prints
All of the images on this web site are available as archival fine art prints. In addition, the Ernest Braun archive, which has many thousands of images, is also available see Stock Photography.

We will oversee every detail of your order to ensure the highest quality. Prints are available in standard sizes from 8x10 to 30x40 inches. The exact size will depend on the original film dimension.

Prints can be ordered un-mounted, mounted with matt or mounted with matt and framed.
Prices range from $250 to $2,500.

Please contact us at ebb@ernestbraun.com or phone 415-454-2791 to get a quote or place an order.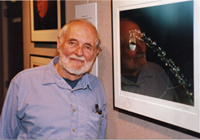 Framed, signed original prints
We have a limited number of framed, signed and in some cases numbered prints created by Ernest Braun. Please inquire about selection and pricing.
Image Licensing
All images in the Ernest Braun archive are available for licensing. Please contact us regarding your needs.
Note: Care has been taken to make sure the image on the screen is as close to the original as possible. However due to differences in individual monitors and internet browsers the screen image may not match the original.
© 2012 Ernest Braun. Unauthorized reproduction of any portion of any photographs presented here through any medium is in violation of federal copyright laws.